Double-click image to make larger
Why Liquid Web Designs?

Because Liquid Web Designs has over 10 years of experience in leading our clients to successes with corporate Branding, web development, and business strategies.
We've had a front row seat to watch web gimmicks, "new" technologies and some pretty established companies come and go. We're still here because we invest the time to understand our clients needs and partner in their vision to design and implement sound business branding and marketing strategies.
Our simple objective is "OPTIMIZE, PROMOTE and CONVERT!" Presenting our client's message and getting it heard!

Checkout some of our success stories
Bowie State University BIG Campaign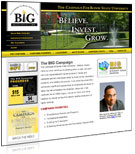 Click for larger image
Web application
LWD planned and developed a full 'giving' campaign-based arm to the existing bowiestate.edu website. The project involved requirements gathering, stakeholder identification, marketing message refinement, 508 compliance and website design and development. The BIG Campaign's site targets Bowie State alumni and corporate donors as well as current students to participate in Bowie State University's effort in raising $15 million to strengthen and grow the University.
Prince George's County Economic Development Corporation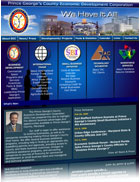 Click for larger image
Mini CD-ROM application, web application.
Liquid Web Designs designed and produced a dynamic Flash presentation on miniature CD-ROM for the purposes of extolling Prince George's County's demographic and economic benefits at the International Council for Shopping Centers (ICSC) convention in Las Vegas. The presentation marketed Prince George's County to upscale retail developers by using interactive demographic charts, printable documentation, photo galleries and other relevant information.
LWD also planned and facilitated the scoping session, project plan, requirements documentation, development, deployment and testing for the County's Economic Development Corporation (EDC) website. The website unified the EDC's five unique and disparate working components (Business Development, International Trade, Small Business Initiative, Technology Incubator and Workforce Services) and addressed each's unique requirements.
Peachez Café and Lounge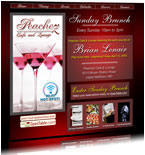 Click for larger image
Full brand, Web application
Liquid Web Designs planned and designed a full business image for a startup café catering to upscale clientele. The project required an initial assessment, requirements gathering, clientele targeting, marketing message refinement and collateral item support. We also provided 'Peachez' the ability to maintain their own content, market their location through 'OpenTable' and receive detailed statistical traffic reports.
The Africa Trade Office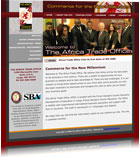 Click for larger image
Web application.
Liquid Web designs produced full web presence to facilitate communication between a local Prince George's County agency and various participating African countries for the purpose of encouraging and supporting international commerce.

Nvyte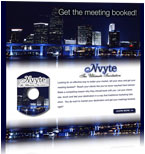 Click for larger image
Mini CD-ROM application, Flash-based eCommerce web application.
As a Liquid Web Designs' exclusive commercial software product, Nvyte, the Ultimate Invitation, serves as the most unique invitation ever! As a dynamic destination invitation targeted at meeting planners, this Flash-based multi-media application delivers a series of sales related videos and focused interactivity as well as the ability for clients to respond directly to the sales pitch with an RFP. Nvyte 'Destination' is currently one of five flavors in the Nvyte family all of which are supported by the companion website Nvyte.net.
N The Loop On-Line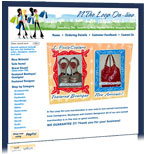 Click for larger image
eCommerce web application.
For this unique online consignment boutique we created a full portal that sells a constantly changing inventory of designer merchandise. Any visitor will find it very easy to search and find any article they need using a broad range of categories. The client has total control over adding, editing and deleting articles as well as reporting of sales, vendors and traffic. This is a small business application that really reaches its clientele.